Book Releases That I Can't Wait to Devour in 2 0 1 8 //
HONESTLY THIS IS REALLY AWKWARD. Not only do I a) keep going on unexplained hiatuses every couple weeks but I'm also b) posting a 2018 new releases post in March. Um . . . oops? *shrugs* :P
I still have SO MANY post ideas but very little motivation or time or energy (thanks, Whatever Illness Has Plagued Me for the Past Week) so yeah - that's where I'm at right now. xD Sorry for being the least consistent person in the universe, but that's what you get with me. Ahem.
We are gathered here today for the sole purpose of MAKING YOUR TBR EVEN MORE TERRIFYING THAN IT ALREADY WAS. Mwahahaha. Be very afraid.
As you will see, there's a lot of historical fiction (sowwy) with fantasy, contemporary, suspense, and middle-grade thrown in. But they all look fab, be honest. YOU CAN'T RESIST THE COVERS. I've never been more excited for new books than I have this year. Because . . . like . . . my FAVORITE authors of all time are putting out new books - some of them more than
one.
o.o (Can you tell I'm excited???)
With that far-too-long intro out of the way . . . LET'S GET ON TO THE REAL POST, SHALL WE?
Roseanna M. White
January 2, 2018
Willa Forsythe is both a violin prodigy and top-notch thief, which make her the perfect choice for a crucial task at the outset of World War I—to steal a cypher from a famous violinist currently in Wales.
Lukas De Wilde has enjoyed the life of fame he's won—until now, when being recognized nearly gets him killed. Everyone wants the key to his father's work as a cryptologist. And Lukas fears that his mother and sister, who have vanished in the wake of the German invasion of Belgium, will pay the price. The only light he finds is in meeting the intriguing Willa Forsythe.
But danger presses in from every side, and Willa knows what Lukas doesn't—that she must betray him and find that cypher, or her own family will pay the price as surely as his has.
Ummmmmmmm. So I already read this (
and reviewed it
, haha) but IT WAS JUST AS AWESOME AS I EXPECTED. Oh my word. Nothing near the first book - that's a whole 'nother level of adoration - but still loveliness personified. I. LOVE. THESE. BOOKSSSSSSSSS. *hugs them for all eternity*
February 27, 2018
Nothing is as it seems in the kingdom of Antora. Kestra Dallisor has spent three years in exile in the Lava Fields, but that won't stop her from being drawn back into her father's palace politics. He's the right hand man of the cruel king, Lord Endrick, which makes Kestra a valuable bargaining chip. A group of rebels knows this all too well - and they snatch Kestra from her carriage as she reluctantly travels home.The kidnappers want her to retrieve the lost Olden Blade, the only object that can destroy the immortal king, but Kestra is not the obedient captive they expected. Simon, one of her kidnappers, will have his hands full as Kestra tries to foil their plot, by force, cunning, or any means necessary. As motives shift and secrets emerge, both will have to decide what - and who - it is they're fighting for.
First of all: ASGDKFLSHDL THAT COVER. I'm dyinggggggg. It's so gorgeous. o.o My library somehow already has this (did they steal an ARC? did a dragon smuggle it there?? I DON'T KNOW) and I can't wait to get my hands on it. Jennifer Nielsen is one of my favorite authors, and this book sounds nothing short of fabulous.
Kristy Cambron
February 6, 2018
A thirteenth century castle, Chateau de Doux Reves, has been forgotten for generations, left to ruin in a storybook forest nestled deep in France's picturesque Loire Valley. It survived a sacking in the French Revolution, was brought back to life and fashioned into a storybook chateau in the Gilded Age, and was eventually felled and deserted after a disastrous fire in the 1930s.
As Ellie Carver sits by her grandmother's bedside, she hears stories of a castle . . . of lost love and a hidden chapel that played host to a secret fight in the World War II French resistance. But her grandmother is quickly slipping into the locked-down world of Alzheimer's, and Ellie must act fast if she wants to uncover the truth of her family's history.
Sparked by the discovery of a long forgotten family heirloom, Ellie embarks on a journey to French wine country to uncover the mystery surrounding The Sleeping Beauty--the castle so named for Charles Perrault's beloved fairy tale--and unearth its secrets before they're finally silenced by time.
Set in three different time periods--the French Revolution, World War II, and present day--The Lost Castle is a story of loves won and lost, of battles waged, and an enchanted castle that inspired the epic fairy tales time left behind.
Okay, wow. Doesn't that cover just scream "spring"?? Kristy Cambron never fails to wow me. As usual, she's written another multiple-timeline book, and this one looks even MORE impressive. Like . . . French Revolution, WWII, and contemporary? I know of nobody else who can pull that off. This has already been released and MY GRACIOUS, I have to get myself a copy.
Joanne Bischof
July 3, 2018
When Aven Norgaard leaves Norway to serve as housekeeper to her late husband's cousins in Appalachia, she expects lads in need of care, not three grown men—each in need of a wife and bound by a powerful brotherhood. As the men carve out a living by brewing artisan liquor, young Haakon's pursuit tempts Aven's lonely spirit . . . but it is his deaf brother, Thor, whose silent strength shows her the depths of real love.
Unable to speak to any woman, Thor Norgaard never anticipates Aven will befriend him, let alone treat him as her safe harbor. Though hard cider is their livelihood and his greatest talent, he fights his way to sobriety with Haakon's help, defying the bottle for Aven's hand—only to face a battle of the heart that tests even the strongest bonds of brotherhood.
Behold - one of my FAVORITE authors in the history of ever. (Okay, so all of the authors I've mentioned so far are some of my favorites . . . but still. Ms. Bischof is one of my top faves.) As is typical of her books, it looks as if it will tear out my heart. There are also Norwegian elements, an Appalachian setting, and a deaf character named Thor?? MY LIFE IS MADE. This is the book I never knew I needed.
Nadine Brandes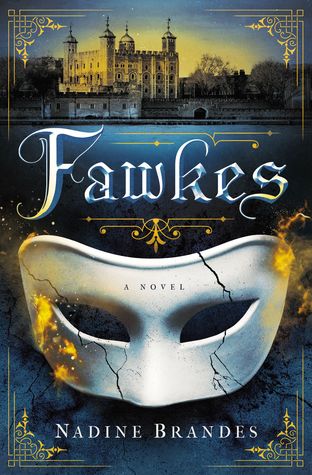 July 10, 2018
Thomas Fawkes is turning to stone, and the only cure to the Stone Plague is to join his father's plot to assassinate the king of England.
Silent wars leave the most carnage. The wars that are never declared, but are carried out in dark alleys with masks and hidden knives. Wars where color power alters the natural rhythm of 17th century London. And when the king calls for peace, no one listens until he finally calls for death.
But what if death finds him first?
Keepers think the Igniters caused the plague. Igniters think the Keepers did it. But all Thomas knows is that the Stone Plague infecting his eye is spreading. And if he doesn't do something soon, he'll be a lifeless statue. So when his Keeper father, Guy Fawkes, invites him to join the Gunpowder Plot—claiming it will put an end to the plague—Thomas is in.
The plan: use 36 barrels of gunpowder to blow up the Igniter King.
The problem: Doing so will destroy the family of the girl Thomas loves. But backing out of the plot will send his father and the other plotters to the gallows. To save one, Thomas will lose the other.
No matter Thomas's choice, one thing is clear: once the decision is made and the color masks have been put on, there's no turning back.
Everyone and their miniature horse is screaming about this book AND FOR GOOD REASON. It looks like the most incredible thing everrrr. In all honesty, I didn't really care much for the first book in her hit Out of Time trilogy. It just . . . wasn't my thing. BUT this one looks right up my alley. Historical fantasy + masquerades + London + plots = ALL THE YES. Take my money right now.
Melanie Dickerson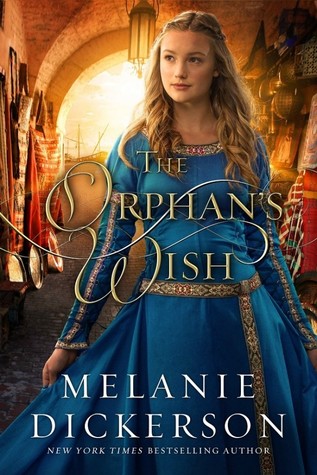 June 26, 2018
From the streets to an orphanage in a faraway kingdom, Aladdin has grown up alone. Until he meets Kirstyn. With a father who is the duke of Hagenheim and a mother who is the patroness of the orphanage where Aladdin lives, Kirstyn is a member of the most powerful family in the land . . . and way out of his league. Despite the difference in their stations, Aladdin quickly becomes Kirstyn's favorite companion for taking walks in the forest, and their childhood friendship grows along with them.
Through his scrappy skills, intelligence, and hard work, Aladdin earns a position serving in the duke's house. But he knows it isn't enough to grant him his one desire: Kirstyn's hand in marriage. If he hopes to change his station in life and feel worthy of marrying Kirstyn, he must leave Hagenheim to seek his fortune.
But once Aladdin leaves, no one is around to protect Kirstyn, and the greedy men desperate to take advantage of her father's wealth take notice. Now, more than Aladdin's background stands in the way of the future he's worked so hard to obtain. His only hope is to rescue Kirstyn and somehow manage to win her hand as well.
Roll your eyes if you wish - I DON'T CARE. (And did you see that brilliant pun? "If you wish?" Orphan's Wish? GET IT? Okay, moving on.) I'll be one of the first people to admit that her books tend to be cliche and have the same plotline rehashed . . . but I still really like them?? I DON'T KNOW WHY. It's like frosting - it's not very filling or substantial, but so light and fluffy and sugary and delightful. A guilty pleasure. :P This is also an Aladdin retelling so I mean . . . c'mon. How cool is that?
(Sidenote: am I the only one who thinks the girl on the cover looks waaaay too young to be of marrying age? She looks about thirteen. xD)
Jeanne Birdsall
May 15, 2018
Nine years, five older siblings, a few beloved dogs, and an endless array of adventures--these are the things that have shaped Lydia's journey since readers first met her in The Penderwicks in Spring.
Now it's summertime, and eleven-year-old Lydia is dancing at the bus stop, waiting for big sister Batty to get home from college.
This is a very important dance and a very important wait because the two youngest sisters are about to arrive home to find out that the Penderwicks will all be returning to Arundel this summer, the place where it all began. And better still is the occasion: a good old-fashioned, homemade-by-Penderwicks wedding.
Bursting with heart and brimming with charm, this is a joyful, hilarious ode to the family we love best. And oh my MOPS--Meeting of Penderwick Siblings--does Jeanne Birdsall's The Penderwicks at Last crescendo to one perfect Penderwick finale.
I'M CRYING. This is the end, my friends. The end. I love this series so dearly and it's going to hurt like crazy to say goodbye. <333 I just hope the author ends it all well. *bites lip nervously* But . . . THIS SYNOPSIS. It raises so. many. questions. I must knowwwww.
Lorie Langdon
March 6, 2018
Olivia Brownlow is no damsel in distress. Born in a workhouse and raised as a boy among thieving London street gangs, she is as tough and cunning as they come. When she is taken in by her uncle after a caper gone wrong, her life goes from fighting and stealing on the streets to lavish dinners and soirees as a debutante in high society. But she can't seem to escape her past … or forget the teeming slums where children just like her still scrabble to survive.
Jack MacCarron rose from his place in London's East End to become the adopted "nephew" of a society matron. Little does society know that MacCarron is a false name for a boy once known among London gangs as the Artful Dodger, and that he and his "aunt" are robbing them blind every chance they get. When Jack encounters Olivia Brownlow in places he least expects, his curiosity is piqued. Why is a society girl helping a bunch of homeless orphan thieves? Even more intriguing, why does she remind him so much of someone he once knew? Jack finds himself wondering if going legit and risking it all might be worth it for love.
Olivia Twist is an innovative reimagining of Charles Dickens' classic tale Oliver Twist, in which Olivia was forced to live as a boy for her own safety until she was rescued from the streets. Now eighteen, Olivia finds herself at a crossroads: revealed secrets threaten to destroy the "proper" life she has built for her herself, while newfound feelings for an arrogant young man she shouldn't like could derail her carefully laid plans for the future.
Hit me up with all the thieving orphans in London stories, guys. (IT'S A GENRE OF ITS OWN AND I LOVE IT.) Just . . . this has me salivating. I love everything about this synopsis and cover. O_o And this apparently comes out on Tuesday so I know what I'll be buying. :P
But yes - Oliver Twist retelling? That has me hooked already.
Morgan L. Busse
November 6, 2018
Lady Selene is the heir to the Great House of Ravenwood and the secret family gift of dreamwalking. As a dreamwalker, she can enter a person's dreams and manipulate their greatest fears or desires. For the last hundred years, the Ravenwood women have used their gift of dreaming for hire to gather information or to assassinate.
As she discovers her family's dark secret, Selene is torn between upholding her family's legacy--a legacy that supports her people--or seeking the true reason behind her family's gift.
Her dilemma comes to a head when she is tasked with assassinating the one man who can bring peace to the nations, but who will also bring about the downfall of her own house.
One path holds glory and power, and will solidify her position as Lady of Ravenwood. The other path holds shame and execution. Which will she choose? And is she willing to pay the price for the path chosen?
Whaaaaaaaaat. This sounds nothing short of incredible. I don't know what to say except, you better believe this is the review book I'll be requesting through Bethany House when this is published.
I actually didn't really like her book Tainted very much, to be honest . . . but this one looks very, very promising. We shall see if it lives up to the swoonworthy cover and synopsis. ;)
Jennifer Nielsen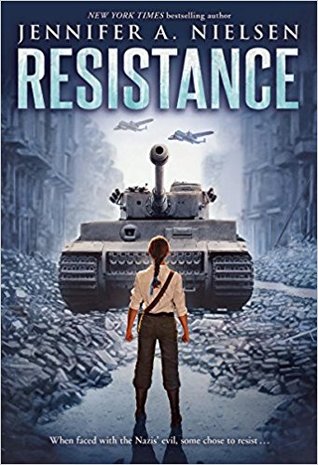 August 28, 2018
Chaya Lindner is a teenager living in Nazi-occupied Poland. Simply being Jewish places her in danger of being killed or sent to the camps. After her little sister is taken away, her younger brother disappears, and her parents all but give up hope, Chaya is determined to make a difference. Using forged papers and her fair features, Chaya becomes a courier and travels between the Jewish ghettos of Poland, smuggling food, papers, and even people.
Soon Chaya joins a resistance cell that runs raids on the Nazis' supplies. But after a mission goes terribly wrong, Chaya's network shatters. She is alone and unsure of where to go, until Esther, a member of her cell, finds her and delivers a message that chills Chaya to her core, and sends her on a journey toward an even larger uprising in the works -- in the Warsaw Ghetto.
Though the Jewish resistance never had much of a chance against the Nazis, they were determined to save as many lives as possible, and to live -- or die -- with honor.
YESSSS ANOTHER NIELSEN BOOK!! I actually JUST saw today that a cover, blurb, and release date had been revealed. I'm all the excitement now because it's releasing the day before my birthday. Can you say best present ever?? I'm over the moon with happiness.
Not to mention that it sounds generally fabulous anyway. I'm kind of a sucker for WWII stories like these. It sounds intense - just the way ever Nielsen book should be. *grins*
Roseanna M. White
September 4, 2018
Once London's top thief, Barclay Pearce has turned his back on his life of crime and now uses his skills for a nation at war. But not until he rescues a clockmaker's daughter from a mugging does he begin to wonder what his future might hold.
Evelina Manning has constantly fought for independence but she certainly never meant for it to inspire her fiancé to end the engagement and enlist in the army. When the intriguing man who saved her returns to the Manning residence to study clockwork repair with her father, she can't help being interested. But she soon learns that nothing with Barclay Pearce is as simple as it seems.
As 1915 England plunges ever deeper into war, the work of an ingenious clockmaker may give England an unbeatable military edge—and Germany realizes it as well. Evelina's father soon finds his whole family in danger—and it may just take a reformed thief to steal the time they need to escape it.
I'M NOT SCREAMING YOU'RE SCREAMING. Ohmygoodnessgracious . . . I had NO IDEA there was a third book coming out, much less that it was coming out this year until I had actually finished reading the sequel. BUT IT'S ABOUT BARCLAYYYY. My baby Barclay!! I can't wait to read a book all about him. Plus this cover. *heart eyes* If I had to pick just one book that I'm most excited for this year . . . it's this one. Hands down. I don't know how I'll survive six months till the release date.
Terri Blackstock
March 6, 2018
Casey is hiding again—in Memphis this time—but it's different now. She knows without a doubt that Dylan believes her and is doing all he can to help bring Brent's killer to justice. He's become an unexpected friend . . . and even, maybe, something more. Hope makes everything more bearable.
Casey makes a deal with the DA to turn over all the evidence she and Dylan have gathered against Keegan and Rollins—only to discover that the DA is in league with them too. After a desperate escape, who can they possibly turn to now?
Time is running out for Casey, but master suspense writer Terri Blackstock will keep readers on the edge of their seats until the last, utterly satisfying page.
Soooo I'm kind of over here dying because I NEED this book to live. (The title is very accurate, okay?) It isn't my preferred genre, but the first book was really good and the second one still decent (less amazing than the first but not bad). Regardless, it left me BEGGING for the third book. Because that endinggg. I. Need. This. Book.
Taylor Bennett
May 1, 2018
Stranded in Hawaii after the death of her mother, sixteen-year-old Olive Galloway is desperate to escape. She has to get back to Boston before her dad loses all common sense and sells the family house. But plane tickets cost money—something Olive gravely lacks.
With the help of Brander, the fussy youth group worship leader, and Jazz, a mysterious girl with a passion for all things Hawaiian, Olive lands a summer job at the Shave Ice Shack and launches a scheme to buy a plane ticket home before the end of the summer.
But when Jazz reveals a painful secret, Olive's plans are challenged. Jazz needs money. A lot of it. Olive and Brander are determined to help their friend but, when their fundraising efforts are thwarted, Olive is caught in the middle. To help Jazz means giving up her ticket home. And time is running out.
GUYSS MY FRIEND IS GETTING PUBLISHED!!! Taylor is such a sweetheart with a ton of talent. I'm so incredibly excited for her and this dream becoming a reality! I'm actually not a big contemporary fan, but this has grown on me the more I think about it. I'm VERY excited to give it a whirl. From all the rave early reviews, it sounds like it's amazing. <3
PHEW THAT WAS A LOT OF BOOKS. I feel like I'm forgetting some new releases because #sickbrain. (So much fun being sick in the school year. ;P) Tell me: do any of these look amazing to you?? What's your favorite cover? (I know, it's an impossible choice.) What are some of YOUR most anticipated releases for 2018? I WANT TO KNOWWWW. *runs away from my dangerously tall TBR*
P.S. Stay tuned for an important announcement coming soon! I am really excited to officially share this with you all. :D